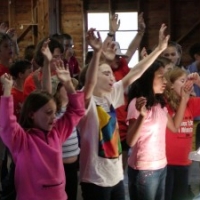 Hearing God's Voice
May 24, 2014
Help your kids learn how to recognize when and how God speaks to them and the role of the Holy Spirit to guide them into all truth. Monica McKeen from Kids in Ministry Massachusetts, will be holding an all day conference to help equip children to do the works of Jesus, create opportunities for them to encounter the presence of God, and be raised to be spiritual champions!
This is a free event! Children are encouraged to attend with their parents!
Saturday, June 28th
10am Games
10:30am Worship
11am-12pm Hearing God's Voice
12pm-1pm Lunch (Bring your own lunch)
1pm-1:30pm Worship
1:30pm-2:30pm Hearing God's Voice
2:30pm-2:45pm Break
2:45pm-3pm Activating Listening Ears
3pm-6pm Dinner & Rest Break
6pm Games
6:30pm Worship
7pm-8pm Activating Gifts
For more information about Kids In Ministry, please visit: http://kimimass.org/.
Back